Forum Dinner
Healthy Landscape | Healthy Food
The Band | Trouble with Johnny
---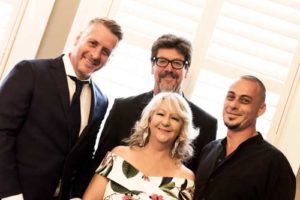 Cecelia Rochelli – vocals, ukulele and percussion
Rocky Rochelli – vocals, keyboards, percussion and musical machinations
Micky Young – tenor, soprano and electric saxophones
Will Ferguson – vocals, guitar, harmonica and percussion
These musicians have been performing for over 40 years (scary) mainly in the central west area of NSW. Their love of all music genres has led them to perform in many various musical situations including pub gigs, corporate gigs, cabaret, musical theatre, social functions, festivals and conventions.
Their aim is to entertain and please everyone with their versatile sound that can change from an infectious dance beat, a romantic french ballad, or to the jive of a jazz big band.
For four musos … they have a BIG sound!
Website : www.twjband.com.au