With more than 200 attendees participating, the 2017 Western Landcare Forum in Broken Hill was a great success and everyone engaged wholeheartedly with the theme of Healthy Landscapes, Healthy Food.  A diverse range of engaging presenters explored the relationship between food and the landscapes that produce it, and ideas for how better to share the success stories of sustainable agriculture in our region and celebrate our amazing produce.
Forum organisers wanted to ensure that attendees were actively engaged in the theme so they built in a range of activities and approaches that ensured that everyone participated.  The forum included two Panel Sessions to make sure that everyone had an opportunity to contribute questions and comments and really think about how we can ALL work together to promote the produce from our region.  The landholder panel on Day One featured regional landholders and was very well received. It was really interesting to hear the diverse views of panel members and how the audience interacted with them.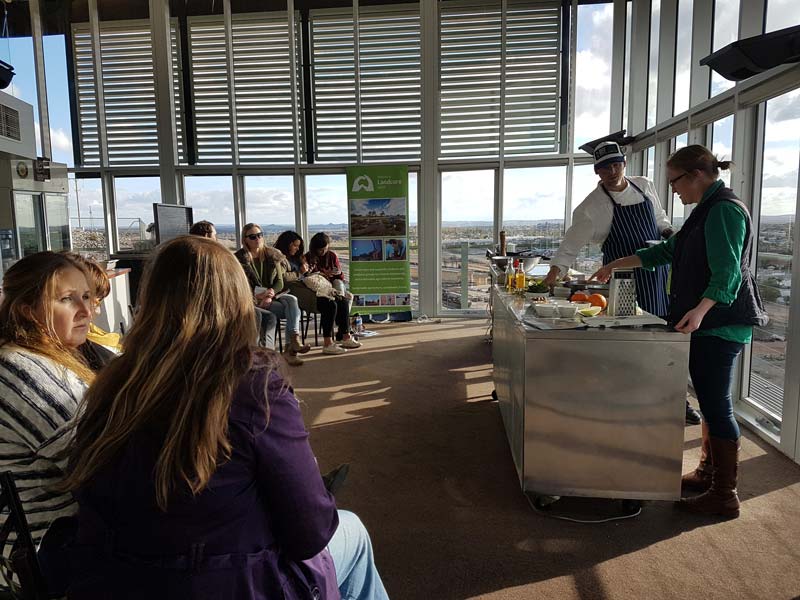 During forum breaks people were able to interact with a range of a local producers, service providers and stakeholders at the Trade Expo and on the first afternoon participants went off to their choice of workshops or field trips, giving everyone a break from sitting in one (slightly crowded) room.  Workshops included cooking demonstrations, drones, butchery, social media, banking, farm safety and spatial farm management technology. Others preferred to take a field trip to build their skills in plant identification at "Clevedale" or explore how to address erosion issues at "Sunnydale".  Apart from the gale force winds making it impossible to fly drones that day, everyone agreed that all the workshops and field trips were fantastic.
Later that evening everyone came back to the Golf and Country Club for pre-dinner drinks and a beautiful dinner which featured produce from the unique Western region of NSW.  The Gourmet Chef from Mildura prepared beautiful entrees made from regional lamb and kangaroo and mains from goat and beef.  This was followed up by some beautiful desserts prepared by local caterers The Caff made from local quandongs, oranges, pistachios and almonds.  All of this was washed down with the beautiful wines from Trentham Estate, produced in the southern part of our region, while we celebrated the winners of the Life and Light photo competition and danced the night away to the sounds of the band Trouble with Johnny.
The next day everyone re-convened at the forum venue bright and early, although there may have been a few sore heads in the crowd!  The second day offered more quality presentations exploring the connections between healthy food and landscapes, presentation of the Western Local Landcare Awards and the launch of the Western Resilient Landscapes program as well as an excellent Industry Panel session featuring representatives from MLA, Beef Australia, NSW Farmers and Austrade.
At the end of the forum all involved pronounced it to be a great success.  The organising committee would like to thank everyone involved for helping to make this such a great event.  We look forward to taking forward the ideas that emerged from the forum and will continue to update everyone on our progress.
Thanks again and we look forward to seeing you at the next regional forum in 2019!