Forum Presenters
Healthy Landscape | Healthy Food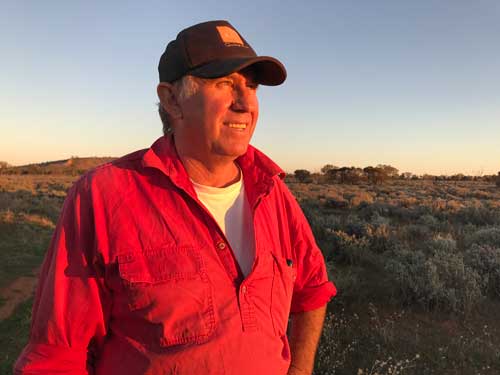 Garry Hannigan
Churinga | Broken Hill
Garry Hannigan was born in Broken Hill  and has always called Churinga home. His family has been at Churinga since 1950 and his grandfather came here as a soldier settler. He is married to Tracy and they have four children Sam, Jessica, Jason and Chelsea.
He is Trained as a wool classer and worked in the shearing industry for 12 years. He bought 20,000ac adjacent to Churinga in 1997, then bought his parents property Churinga in 2000. He purchased Narringa in 2009 at Nyngan as a block to offset drought.
Garry Introduced South African meat sheep to the western division in 1997, shortly after their arrival into Australia. He was one of the pioneers of organic certification in western NSW and one of the early suppliers to Woolworths and Coles. Currently he exports organic lamb to a supermarket chain in the USA.
In 2004 was awarded the NSW Farmer of the Year.
In 2006 completed a Nuffield scholarship, spending 16 weeks travelling the world studying organic lamb production and marketing.
Involved for 10 years in the Enterprise Based Conservation pilot programme. Since the completion of that programme we have maintained the 10,000ac as a private conservation plot.
Director on the Rural Lands Board 2000 until board dissolved.
Spent 5 years as a NSW rep on the National Bestprac Project Advisory Panel.
Councillor on the Pastoralist Association of the West Darling for the past 8 years to current.
Local Land Services Advisory Board 2016/2017
Recently appointed board member on the Western Lands Advisory Board.