Workshop
Healthy Landscape | Healthy Food
Getting the Most Out of the NRM Spatial Hub
Cooperative Research Centre for Spatial Information and the Rangelands NRM Alliance
---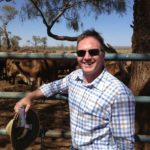 Farm managers, extension staff and consultants are invited to attend a workshop to learn about an innovative new land management tool—the NRM Spatial Hub.
The 50 min introductory workshop will showcase the NRM Spatial Hub www.nrmhub.com.au through live demonstrations of new tools for efficiently and consistently mapping, planning, analysing and monitoring property infrastructure, land resources and ground cover.
We will demonstrate that with the click of a few buttons and a few hours, you can create your own digital farm map from ultra-high resolution satellite imagery and load it onto a smartphone to navigate around the property. You will see a Profiling Tool that calculates the surface distance over terrain and elevation of proposed water pipelines or fences, and we will show you how to create a land class layer, or calculate sustainable carrying capacity based on current or future development and seasonal scenarios to take to your bank.
We will also show you how in 30 seconds, a manager can now analyse and report on seasonal trends in ground cover within a paddock or entire property for the most recent season and compare it to the last 30 years or benchmark changes in management practice or investments.
If you are a new user, you will see technology described by NASA as world-leading, and if you are an existing user we will demonstrate new advanced capabilities to get the most out of the technology. The workshop will be interactive, and we will be seeking feedback on planned development and how we can improve the current tools for your needs.
We also want to discuss opportunities for collaboration to make things easier on-farm and for third-party service providers. We will also have a booth at the Forum where you will be able to have a look at your own property.